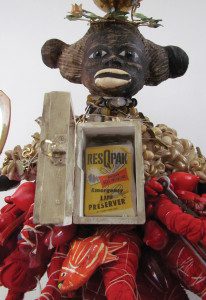 CONCEPT ART GALLERY PRESENTS
Vanessa German: Citizen Artist
January 9 – February 8, 2014
Exhibition Opening: Thursday January 9, 6-8PM
Procession from Homewood to Concept Gallery: Saturday January 11, 2PM
Performance: Thursday January 30, 6:30PM
Concept Gallery welcomes award winning mixed media sculptor, photographer and nationally recognized performance poet, Vanessa German. The exhibition features Ms. German's iconic mixed media sculptures. Additionally, Concept will participate in a procession from Homewood to the Regent Square gallery, as well as presenting a live poetry performance later in the month. German may be best known in Pittsburgh for her spoken-word performances, which often extol the African-American female experience. Her sculptural figures continue this theme. She uses found objects such as cast-off baby dolls, old furniture, seashells, fabric, paint, tar, slogans and old signage that speak to history; of African American experience, of woman, of stereotype and race. She says "As a sculptor, I always work on the things that I love, create things that rise out of that place of ethnic clarity for me."
Vanessa German was born in Wisconsin, raised in Los Angeles, California, and Loveland, Ohio. She received performance training at the Los Angeles Conservatory of the Performing Arts, Los Angeles Center for Enriched Studies, South West College, University of Cincinnati, and the Los Angeles Theater Academy.
Vanessa is winner of the 2007 Duquesne Light Leadership Award Winner for contributions to Arts and Culture. German's work has been featured in the 2011 Pittsburgh Biennial at the Andy Warhol Museum. She received a grant from the August Wilson Center to create and perform "Root," an original spoken word opera. She has also exhibited at the Museum of Contemporary Art, Cleveland and was named Emerging Artist of the Year by Pittsburgh Center for the Arts in 2012. She currently shows with Paul Zoubok Gallery in New York, and her work is in public and private collections nationwide, including the new Crystal Bridges Museum in Bentonville, Arkansas and The Museum of Visionary Art in Baltimore.
images here: https://conceptgallery.com/gallery-exhibitions/vanessa-german-citizen-artist-2014/#1
Gallery Hours: Tuesday – Saturday 10AM – 5:30PM
Thursday until 8PM
Contact: info@conceptgallery.com , 412-242-9200
###